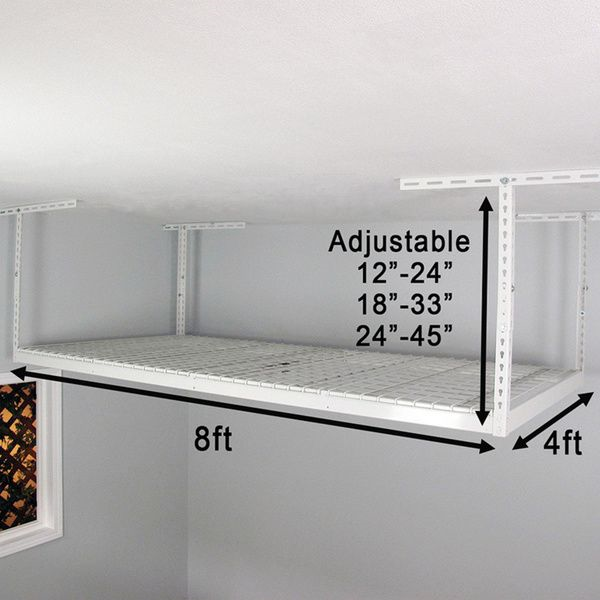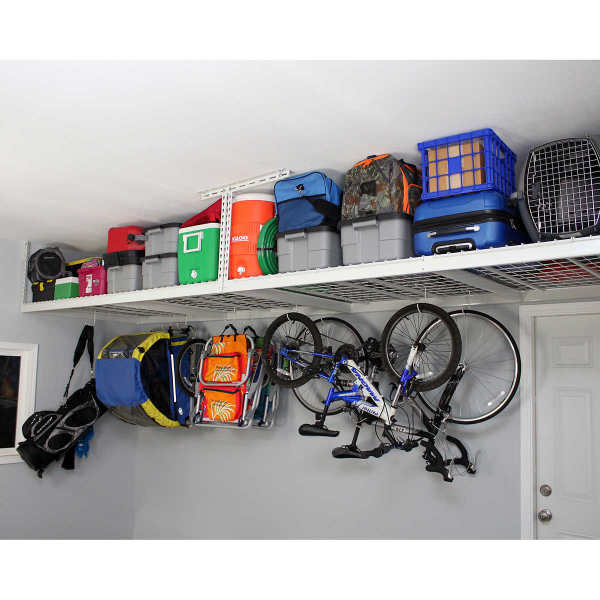 MEASURE THE SPACE ABOVE THE SERVICE DOOR TO THE CEILING
THESE ARE WHAT WE HAVE IN STOCK. THEY COME WITH 2 ACCESSORY PACKAGES EACH. THEY HOLD 600 LBS.  2 RACKS DELIVERED AND INSTALLED FOR $ 750 PER PAIR. 2 RACK MINIMUM. $350 EACH ADITIONAL. PRICES WHILE SUPPLIES LAST.
SOMETIMES ONE FITS ABOVE THE SERVICE DOOR. SOMETIMES BESIDE THE SERVICE DOOR IS A BETTER OPTION.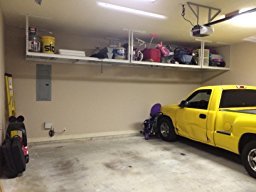 MEASURE AT THE FRONT OF THE CAR/TRUCK
MEASURE THE SPACE ABOVE THE GARAGE DOOR TO THE CEILING
WE NEED TO MAINTAIN 6 FOOT 8 INCHES UNDER THE RACKS. MARK THAT HEIGHT ON THE WALL AND MEASURE TO THE CEILING AND THAT IS HOW TALL THE SHELF COULD BE!
IF YOU HAVE 9-10 FOOT CEILINGS IN THE GARAGE THESE WILL OFTEN FIT ABOVE THE GARAGE DOOR WITH A 16-18 INCH SHELF HIGHT.